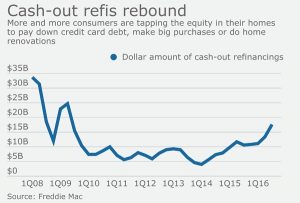 As a Hard Money Lender in Orange County, we receive inquiries like:
Can I get cash out of my house for my business?
Can I pull money/equity from my principal residence and apply those funds towards a business acquisition or my companies working capital or business equipment?
As a real estate investor, can I pull money out of my house to make a real estate investment?
The answer is Yes!  Then, the next question is: Can I quickly and professionally get a straightforward, simple, and routine business purpose loan to get me those cash out funds?  The answer again is yes!  While the graph above depicts consumer cash out refi's, business purpose refi's have a similar trajectory.
Hard Money Business Purpose Cash Out loans based on the equity in a property are back in demand and these loans provide a fast, unobtrusive, and viable alternative to traditional small business financing.
One of the reasons for the increased demand for these business purpose cash out loans is increasing amounts of equity available due to home price appreciation.   Clear Capital's Housing Market Data Index reported that national home prices rose by 0.9% in the fourth quarter of 2016.  Nationwide single family residence annual price growth increased to 6.1 percent for 2016.  The report continued and said that national price growth should moderate in 2017 with annual growth projections in the 2-3 percent range.
The trend for business purpose cash out refinances shows little sign of slowing down.  Recently Mortgage Vintage funded a loan for a new high tech startup in the Construction industry, provided working capital for a truck leasing company and provided funds for a new internet payments platform.   In many cases like the above loan scenarios, the borrowers needed the money quickly and had equity in their home that was available to borrow against.
Interest rate shifts could also lead to more business purpose cash-out refi's. The prime rate, which climbed to 3.75% in the fourth quarter, could continue to rise if the Federal Reserve proceeds with rate hikes. Credit card and Bank debt, largely based on the prime rate, could become more expensive and business owners could use cash-out refi's to finance growth as opposed to tapping into consumer debt.
As with all debt, business owners, self-employed individuals, entrepreneurs, and real estate investors need to assess the risk, cost, exit strategy and economic benefit of the new loan.  When a borrower is trading unsecured debt for debt that's tied to a home, a default could be more damaging.
Do you have any scenarios where you needed or need a Business Purpose Cash-Out Hard Money Loan in Orange County, Los Angeles or southern California?  We would like to know.  Please submit a post on our Mortgage Vintage, Inc. Facebook Page or our LinkedIn Company page.  If you enjoy discussions like this, please sign up for our Linked in Group called Southern California Trust Deed Investment Group or the CrowdTrustDeed Group.