California Hard Money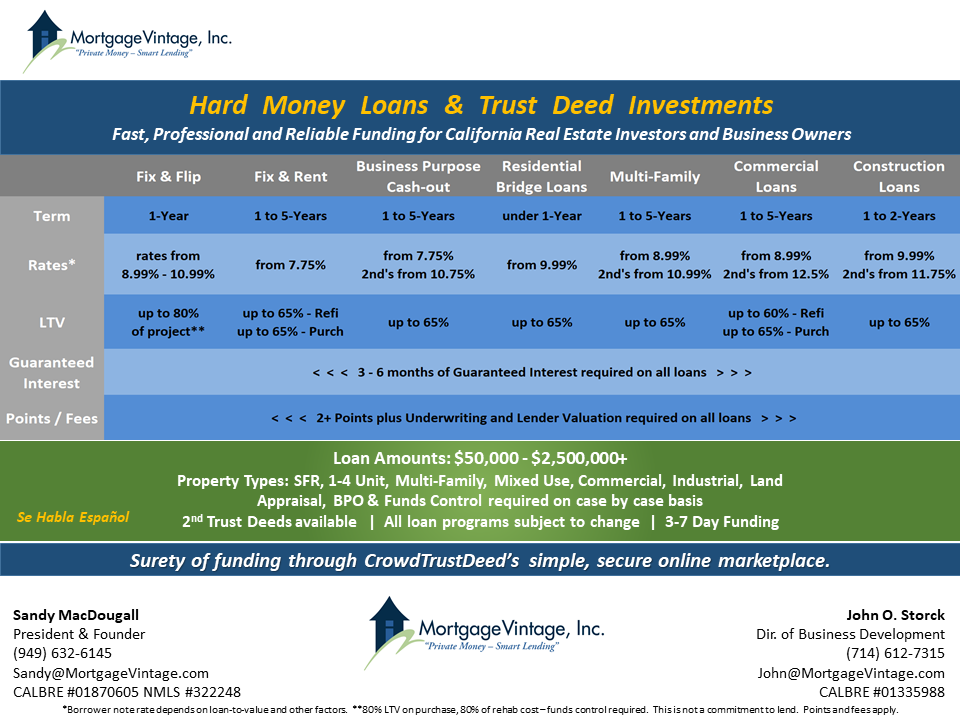 Mortgage Vintage, Inc. provides hard money loans for private individuals, self-employed borrowers, business owners and real estate investors that require funds to purchase or refinance commercial or residential properties. Since our inception in 2007, we've enjoyed a proven track record of quality real Trust Deed Investments and are committed to making the hard money loan and trust deed investment process quick, efficient, and transparent for all of our borrowers and investors.
Mortgage Vintage, Inc. provides hard money loans in cities all over Southern California, and while we are located in Orange County we can and will finance loans anywhere in California. Our borrowers and investors are located in Newport Beach, Los Angeles, Bel Air, Beverly Hills, Santa Monica, Orange County, San Diego, Long Beach, Bakersfield, Anaheim, Tustin, Orange, Fullerton, Brea, Aliso Viejo, Laguna Beach, Laguna Hills, San Clemente, San Juan Capistrano, Ladera Ranch, Santa Ana, Costa Mesa, Huntington Beach, Irvine, Riverside, Perris, Lake Elsinore, Ontario, LaVerne, Colton, San Bernardino, San Diego and countless other California cities and counties!
California Hard Money Loan Programs
Mortgage Vintage's private money and hard money loan programs are designed for California real estate investor professionals. Our reliable hard money loan programs make the process of acquiring a hard money loan quick and straightforward, even for first time borrowers. In fact, our simple loan process enables our clients to close their purchases in as little as 3-7 days!
Mortgage Vintage, Inc. works with a variety of borrowers that are buying properties via REO, short sales, real estate auctions, trustee sales, trustee sale refinances, private party, and even construction properties. We also offer an assortment of residential loans such as Fix and Flip loans, Fix and Rent Loans, Business Purpose Cash Out loans, and many more. Our professional hard money loan experts also offer commercial bridge loans from 1 to 5-years on office, retail, industrial, and other small commercial properties.
Many of our typical current and potential borrowers have run into trouble in obtaining traditional bank funded loans. This may be for a number of reasons, such as experiencing a major life event like a loss of job, chronic illness, divorce, etc. Other borrowers are foreign nationals, self-employed or desire a short term loan or expedited loan approval.
Mortgage Vintage, Inc. will help turn the dream of real estate investment into a reality! We provide loans based on the collateral, loan purpose and the ability to pay. We adhere to a simple lending philosophy: "We will lend if you would lend".
As a California hard money lender, our program focuses on single family residential properties (1-4 units) all over Southern California including properties located in Los Angeles County, San Diego County, Orange County, Riverside County, Ventura County and San Bernardino County. We also have a presence in nearby cities such as Rialto, CA, Colton, CA, Montclair, CA, Fountain Valley, CA, Bloomington, CA, Norco, CA, Moreno Valley, CA, Mira Loma, CA, Encinitas, CA, San Clemente, CA, Loma Linda, CA and Redlands, CA.
Trusted Hard Money Lender
Since 2007, Mortgage Vintage, Inc. and CrowdTrustDeed have funded well over $100 million dollars to borrowers, resulting in millions of dollars profit for these real estate borrower clients. Mortgage Vintage uses thorough due diligence, valuation and underwriting procedures to ensure that borrowers and investors are supported throughout the entire loan process.
Whether you're a seasoned investor who invests multiple times a year, a start-up investor who is looking to get into the real estate marketplace or a broker helping your client close a deal, Mortgage Vintage, Inc. has both the funding capacity and the professional resources to meet your needs.
California Hard Money Terms
Loan sizes:
$50,000 – $2,500,000+
Funding Locations:
Northern, Central and Southern California
Collateral:
Non-Owner Occupied; Owner-Occupied Business Purpose; Cross Collateral
Lien Position:
1st and 2nd mortgages available
* Borrower note rate depends on LTV and other factors.
** 80% LTV on purchase, 80% LTV of rehab cost – funds control required.