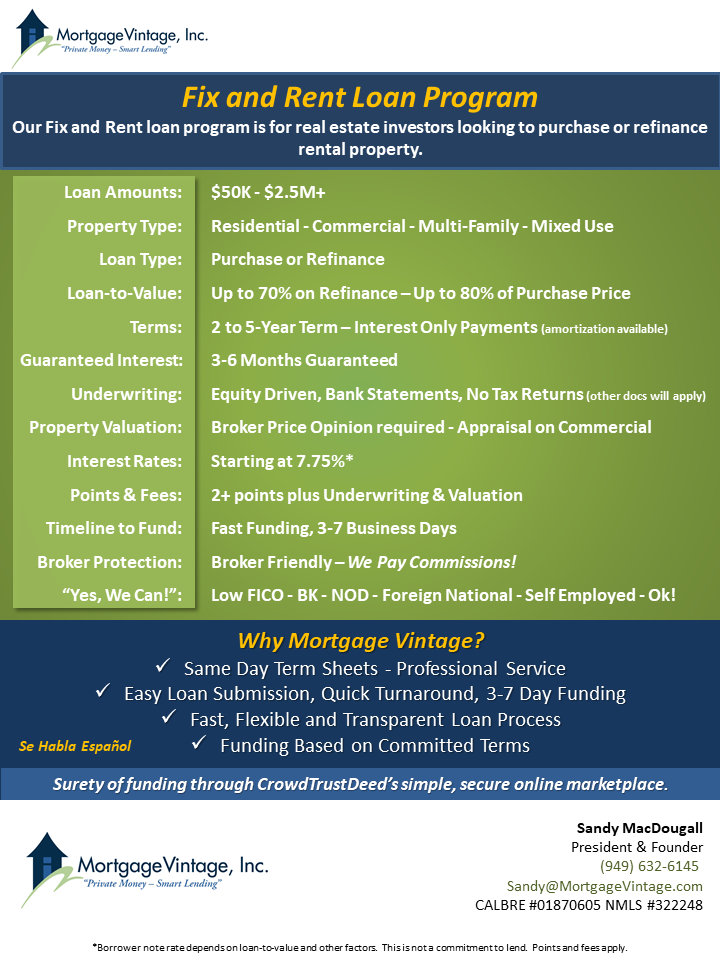 Mortgage Vintage, Inc. is a direct hard money lender that originates and funds business purpose and investment loans secured by California real estate.
Fix and Rent Loan Program: This loan program provides 2 to 5-year loans for real estate investors looking to purchase or refinance rental property.
California Lending Guidelines:
Loan amounts from $50K – $2.5M+
Up to 65% on refinance – Up to 80% on purchase price
Rates starting at 7.99%
Non-Owner Occupied
Broker Price Opinion (BPO) required – Appraisal on Commercial
2 to 5-year term – Interest Only Payments (amortization available)
2+ points plus Underwriting & Valuation
Low FICO – BK – NOD – Foreign National – Self Employed – Ok!
Why Mortgage Vintage, Inc.?
Same Day Term Sheets – Professional Service
Easy Loan Submission, Quick Turnaround, 3-7 Day Funding
Fast, Flexible and Transparent Loan Process
Over 35 years Financial Industry Experience
Funding Based on Committed Terms
Surety of funding through CrowdTrustDeed's simple and secure online marketplace
Contact:
Sandy MacDougall – (949) 632-6145 – sandy@mortgagevintage.com