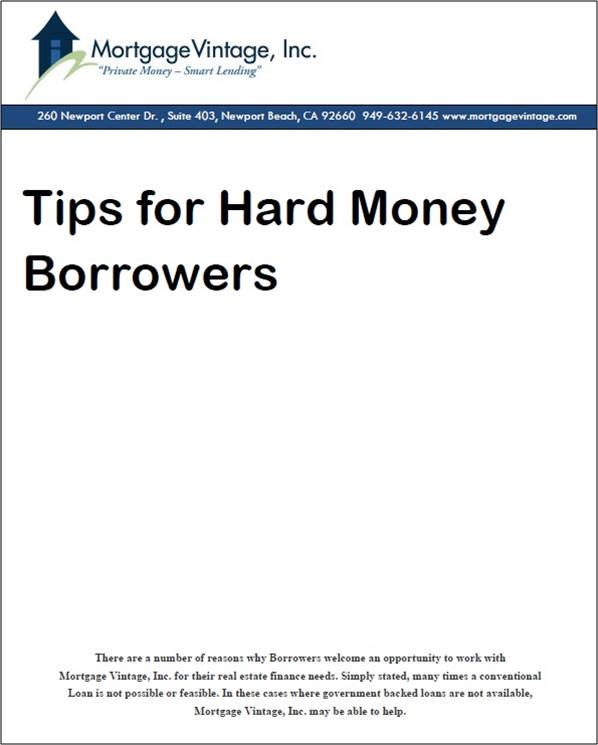 Mortgage Vintage, Inc. is actively seeking to arrange private money loans to California borrowers requiring funds for the purchase or refinance of commercial and apartment properties as well as select, income producing, non-owner occupied 1-4 properties where the borrower has demonstrated a clear business purpose for the loan.  We are fortunate to have an expansive and diverse base of private investors who are anxious to place their funds in trust deed investments, enabling us to fund and close transactions in a timely and efficient manner.
Click here to request the brochure.
Our underwriting is focused on the equity in real estate and is not driven by credit scores or extensive income documentation.  Our rates and fees are extremely competitive and our process, from submission to closing, rarely exceeds 2 weeks.  While conventional sources are becoming less available and other private lending sources less reliable, we continue to grow our investor base and closing volume, and we remain a consistent and dependable funding source.
If you're a mortgage or real estate professional or a prospective borrower, and your loan request does not fit within conventional loan parameters or requires a timely closing, we invite you to contact us.  If you're an investor, whether familiar with trust deed investment or wanting to learn more about this asset class, we look forward to speaking with you.
There are a number of reasons why Borrowers welcome an opportunity to work with Mortgage Vintage, Inc. for their real estate financing needs. Simply stated, many times a conventional loan is not possible or feasible. In these cases where government-backed loans are not available, Mortgage Vintage, Inc. can help a borrower find financing in less than 7 days.
In this booklet, we provide tips for borrowers seeking hard money loans. The tips that follow will help borrowers save time by knowing the steps and data needed to prepare an investment opportunity for a Hard Money Lender. Through these pages a borrower will learn to maximize profits by finding the best loan rate and terms for the investment opportunity.