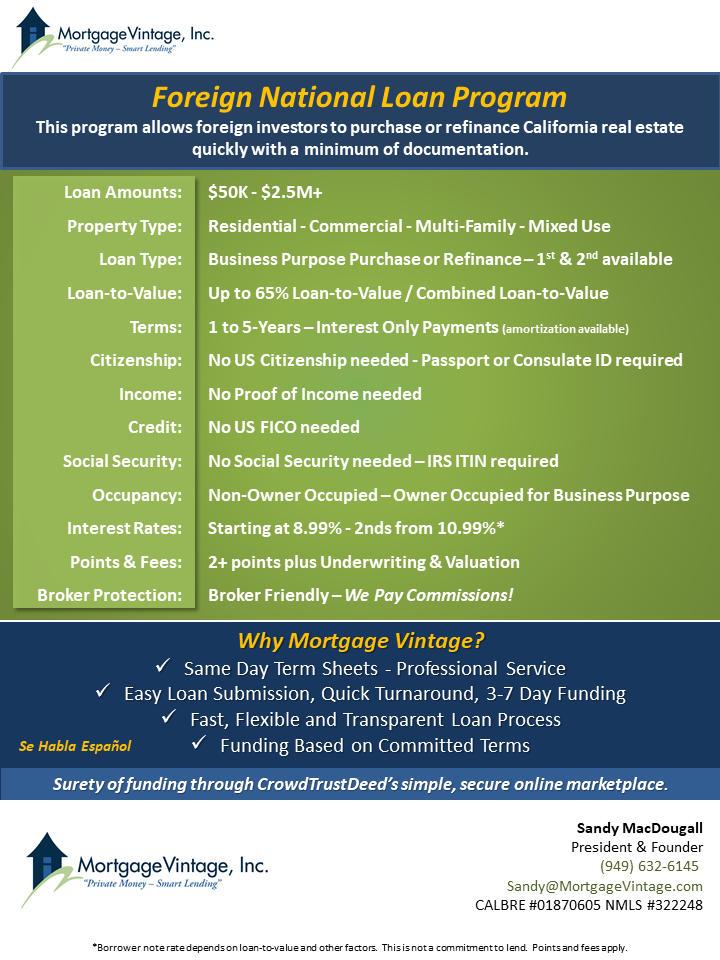 Mortgage Vintage, Inc. is a direct hard money lender that originates and funds business purpose loans for real estate investors and business owners.  All Mortgage Vintage loans must be secured by California real estate.
Foreign National Loan Program:
This program allows foreign investors to purchase or refinance California real estate quickly with a minimum of documentation.
Lending Guidelines:
Loan amounts from $50K – $2.5M+
1st TD LTV up to 60% – 2nd TD CLTV up to 60%
Rates starting at 8.99% – 2nd's from 10.99%
Non-Owner Occupied and Owner Occupied
Purchase, Cash-out or Rate-and-Term Refinance
Broker Price Opinion (BPO) required; Appraisal in some cases
1 to 5-year term with Balloon – Interest Only payments (amortization available)
No US Citizenship needed – Passport or Consulate ID required
No Proof of Income needed
No US FICO needed
No Social Security needed – IRS ITIN required
Why Mortgage Vintage, Inc.?
Same Day Term Sheets – Professional Service
Easy Loan Submission, Quick Turnaround, 3-7 Day Funding
Fast, Flexible and Transparent Loan Process
Over 30 years Financial Industry Experience
Funding Based on Committed Terms
Surety of funding through CrowdTrustDeed's simple and secure online marketplace
Se Habla Español
Contact:
Sandy MacDougall – (949) 632-6145 – sandy@mortgagevintage.com