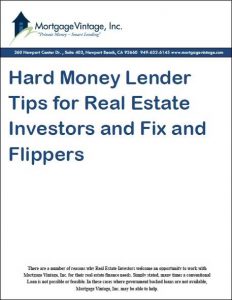 Many times a conventional loan is not possible or feasible for a Real Estate Investor looking to Fix & Flip or Fix & Rent a property. Whether it's the time required for the loan process, credit issues or the condition of the real estate collateral, a hard money loan is many times the best financing choice.
Typically Hard Money Loans take between 3-7 days to complete which offers value to a real estate investor trying to capitalize on a discounted purchase opportunity where the seller needs to sell quickly.
Click here to request the brochure.
Sandy and the Mortgage Vintage team have worked extensively with real estate investors who are seeking to turn a profit on Fix & Flip or Fix & Rent opportunities. We've seen what works and what does not work on rehabs.
We experience best practices first hand and cheer for our investors to make their successful flips and profits. Experience is invaluable in knowing how to profit on real estate investments and you can learn some valuable lessons in the pages that follow.