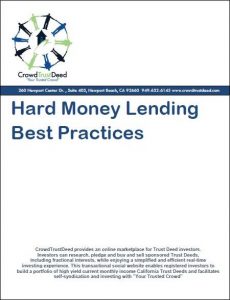 Yield Hunters have found a home.
CrowdTrustDeed provides an online marketplace for Trust Deed investors. Investors can research, pledge and buy and sell sponsored Trust Deeds, including fractional interests, while enjoying a simplified and efficient real-time investing experience. This transactional social website enables registered investors to build a portfolio of high yield current monthly income California Trust Deeds and facilitates self-syndication and investing with "Your Trusted Crowd"
Smart investors today have developed their own strategies to create yield. Wall Street instruments including Master Limited Partnerships, REITS and high dividend stocks provide yield for those who prefer high liquidity yet low transparency investments. Some Real Estate Investors buy Apartments, Office, Retail and Industry properties and plan to "value add" their way to increased yields. While the entering cap rates of 4-6% may not be attractive, value add equity plays along with appreciation has proven to be a winning yield strategy over time.
Trust Deed Investments offer a nice diversification play away from Wall Street instruments and equity Real Estate Investing. Trust Deeds provide transparency due to the specific real estate and a high yield, typically 8-11%. While limited in absolute liquidity, Trust Deeds are typically short term with 1-5 year time horizons.
In this booklet are great "best Practices" that show the yield power of a diversified Trust Deed portfolio. Learn how to create your own Trust Deed Portfolio today and enjoy a predictable secured income for years to come.
Learn more about Mortgage Vintage…
Call today: 949.632.6145