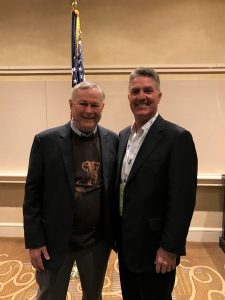 Sandy with Congressman Dana Rohrabacher at the recent 2017 Cannabis Business Expo in San Diego. Sandy and Mortgage Vintage launched their Cannabis Business Purpose Loan Program that provides cannabis-related business loans secured by California Real Estate. The ability to back cannabis businesses with Real Estate secured loans gives this program an extra advantage in the region thanks to the growing strength of the Real Estate industry and the rising house prices in the state of California.
With the rising interest in the benefits of medical marijuana, many companies are starting to form with the intent of selling the product, by-products, accessories and other paraphernalia related to cannabis within a store, such accessories and paraphernalia like you can find on websites similar to fatbuddhaglass.com, this offers accessories and other products to medical marijuana patients that may not wish to spend money on the internet or have the know-how to do so. Due to the recent decriminalization of the drug in many states, this has become a lucrative business model, but without an initial investment, many of them are unable to grow or sustain themselves to reach the point of becoming self-sustainable in the market.
The Cannabis Business Purpose Loan Program would allow many of these businesses access to the financial resources needed for them to invest in internal infrastructure, such as purchasing seed to sale software to maximize the profitability of each crop. It also allows such companies to try new mediums in the market which could spearhead the next big seller in the cannabis industry, or gives them the freedom to hire experts in the field who have operated in the area for longer than the legitimacy of the industry has been around
In short, the Cannabis Business Purpose Loan Program offers plenty of opportunity for those looking to enter the industry.
Learn more about the program here: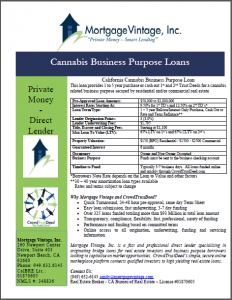 https://mortgagevintage.com/wp-content/uploads/2012/08/Cannabis-Business-Purpose-Loan-3.pdf