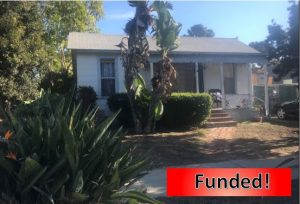 Recent Transaction – $383,500 Business Purpose Cash Out, Oceanside, CA
Real Estate Investor and business owner was seeking a cash-out 1st Trust Deed on this free-and-clear Oceanside, CA duplex to make improvements to both units that will in turn allow him to attract market rents.  Property owner will also use a portion of the loan proceeds to invest back into his plumbing business.
Subject Property is a non-owner occupied duplex.  The duplex is ranch style and is situated on a 5,180 sqft corner lot. The property has 1,000 livable sqft with 3 bedrooms and 3 bathrooms, a patio and 2-car detached garage and sits just nine blocks from the Strand, the beach and the Pacific Ocean.