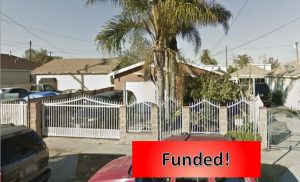 Recent Transaction – $256,750 Business Purpose Cash Out in Los Angeles
Borrower was seeking a Business Purpose Cash-Out Refi to refinance the existing first TD and make improvements to this non-owner occupied property.  Borrower and co-borrower are both employed with steady work histories having been at their jobs for over 10 years, respectively.
Subject property is a single-story, SFR located in Los Angeles just south of the 105 fwy and east of the 110 fwy.  The subject is a 4 bdrm/2 bath home that is approx. 1,240 sf on a large lot.  The property is centrally located near the 110 fwy, shopping, restaurants, schools, houses of worship and parks.  Current tenant pays $2,600/month.