How can hard money lenders help someone in need?
After graduating from UCLA Allen purchased his dream lot in Malibu in 1984. He purchased a used Motor Home that first paraded to a UCLA vs. Cal football game in Northern California filled with delirious sorority and fraternity members, but then became his temporary home on the vacant land.
Allen worked for the prestigious J. Walter Thompson Advertising Agency during the day and toiled on weekends building his dream home with a 270-degree ocean-view. He worked and worked and finished building the house in 1989.
Allen also volunteered his time and served as the "House Manager" for his
fraternity at his alma mater. Allen always looked out for others and is a friend to all. Allen, in the 2000's had left Advertising and had parlayed his "House Manager" skills to start his own Company with his friend and General Contractor, Dave. Their business maintained Fraternity and Sorority houses on behalf of Greek Alumni Associations across the Southland.
Several years ago, Allen noticed some slurring in his speech and twitching in his muscles. Allen had contracted Parkinson's Disease. In 2015 Allen's condition deteriorated, and he moved into a Parkinson's Care Assisted Living Facility in the San Fernando Valley. His Malibu Dream House after years of neglect due to Allen's physical limitations was in disrepair. Allen, like many others, had worked his whole life, but not saved very much. Allen needed money to pay for his room and board at the Parkinson's Facility. Allen considered selling his house but only bottom fisher buyers showed interested in his dilapidated house. Agents and Rehabbers came in with offers around $1.4 Million.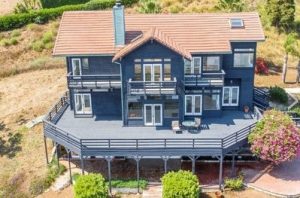 Allen and Dave contacted a Hard Money Lender and asked about a Business Purpose Cash-Out Loan to repair the Non-Owner-Occupied house in preparation for sale. The Hard Money Lender met at the property and together determined that $400k would satisfy the maintenance, repair, sale, and other expenses. Dave spent about $250k on the rehab and the house recently sold quickly for $1.93 Million providing a healthy $280k boost to Allen's long-term care savings account.
The Hard Money loan in this instance provided Allen with desperately needed funds to repair and sell his house. While Allen is still fighting Parkinson's, he knows he has additional funds for his care and some financial security from the house sale proceeds. Do you or someone you know have substantial equity in property and need a Business Purpose Cash-Out?