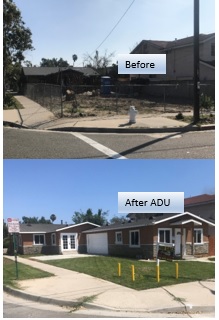 What are the current opportunities in ADU Lending?
New California laws effective in 2017 and 2018 provide clarification and fee assistance for the creation of ADUs. These new regulations clarify and improve various provisions of the law to promote the development of ADUs, including allowing ADUs to be built concurrently with a single-family home, opening areas where ADUs can be built to include all zoning districts that allow single-family uses, modifying fees from utilities, such as special districts and water corporations, and reducing parking requirements.  People build ADU's for lots of reasons, but the most common goals, according to one study, are gaining income via rent and housing a family member. In many localities you can get legal rental income from a permitted ADU, or, if you want, you can live in the ADU and rent out the other dwelling.
Accessory Dwelling Units (ADUs) are known by many names: granny flats, in-law units, backyard cottages, secondary units and more. No matter what you call them, ADUs are an innovative, affordable, effective option for adding much-needed housing in California.  Regardless of its physical form (backyard cottage, basement apartment, etc.), legally an ADU is part of the same property as the main home. It cannot be bought or sold separately, as a condominium or a dwelling on wheels might be. The owner of the ADU is the owner of the main home.  Regardless of its physical form (backyard cottage, basement, apartment, etc.), legally an ADU is part of the same property as the main home and cannot be bought or sold separately.
Cities throughout California are applying local ordinances to these new State Laws that clarify the qualifications, size and permitting requirements for ADU's.  These ordinances update and amend the City's Zoning Code and Local Programs to conform with the new state requirements.
These new laws are already having an impact. In 2017, California municipalities issued 4,529 ADU permits, up 60 percent from 2016, according to an Attom Data Solutions analysis of numbers from property data firm BuildFax.  In Los Angeles and Orange counties, the increase was even greater. The two counties collectively saw permits jump 122 percent to 1,466 units.  The city of L.A. had a 404 percent increase while the city of Santa Ana had a 320 percent gain.  Numbers for 2018 so far show the ADU trend continuing.
Several new laws are pending to further reduce construction barriers and to allow retroactive permits for illegal units that met the building codes when they were built.  According to Attom, secondary-unit construction will put a dent in the state's housing shortage, providing as many as 1 million new units in the future — meeting nearly a third of the state's projected housing shortfall by 2025.
The Mortgage Vintage ADU Loan Program can facilitate this additional ADU income opportunity whether you are an owner occupant wanting to add an ADU or a Real Estate Investor looking to fix and flip a property.