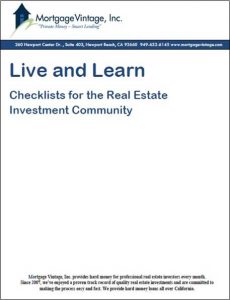 Mortgage Vintage, Inc. provides hard money for professional real estate investors every month. Since 2007, we've enjoyed a proven track record of quality real estate investments and are committed to making the process easy and fast. We provide hard money loans all over California.
Mortgage Vintage's private money/hard money loan programs are designed for California real estate investor professionals. We work with investors buying REOs, short sales, real estate auctions, trustee sale refinances, private party, and any other rehab project.
Through this process we have been a part of over 250+ transactions and have learned along the way as each situation is unique. In this booklet we provide brokers, borrowers and hard money lenders tips and tricks to success in the form of checklists. Each bullet is a jewel of wisdom learned from experience or from Sandy's over 35 years of successful business development with firms like IBM, CB Commercial, First American Title and Fidelity Title.
Learn more about Mortgage Vintage…
Call today: 949.632.6145