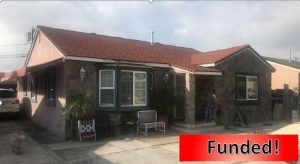 Recent Transaction – $75,000 Business Purpose, Santa Ana, CA
Good credit score borrowers were seeking a Business Purpose Cash-Out loan to acquire an Orange County single family residence investment property in Tustin.
Front unit has 4 bdrm / 2 ba, back unit has 2 bedrooms and 1 bathroom. There is a studio between the 2 units with kitchen and bathroom. Rents for the two back units are $1,500 for the studio and $2,500 for the 2 bdrm. Property is located in a well established neighborhood near all public services, and easy access to the freeway.