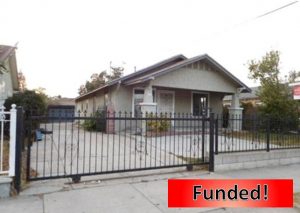 Recent Transaction – $260,650 Business Purpose Purchase, Santa Ana, CA
Previous successful Mortgage Vintage borrower and experienced fix and flip professional was seeking a business purpose 1st Trust Deed to purchase this HUD owned Santa Ana property. Borrower owns multiple investment properties in and around Santa Ana in Orange County.
Subject Property is a single-story, 3 BR / 1 BA ranch style SFR in Santa Ana, CA.  The home has 1,200 sf of living space and is situated on 5,280 sf lot.  Property features bonus room, eat-in kitchen, back yard and fruit trees.  This home is in a well established neighborhood and is conveniently located to all public services including: schools, shopping centers, banks, restaurants, places of worship, parks and medical offices.