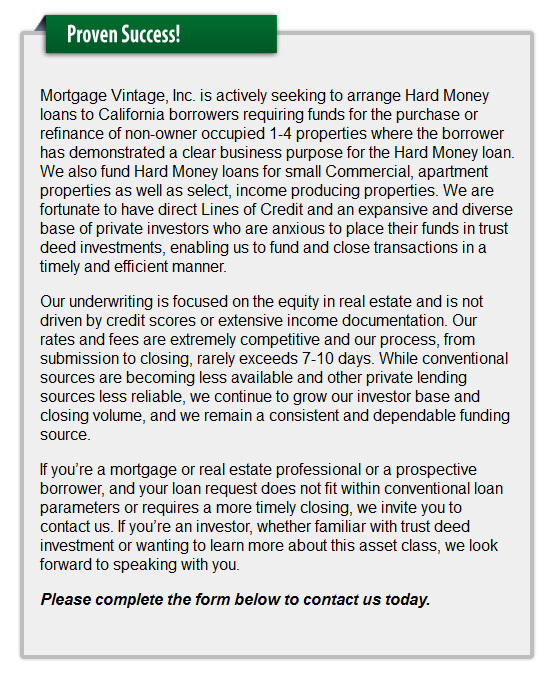 Hard Money Loans Secured by California Real Estate

Fast same day quotes and 3-7 business day funding

Up-front terms, conditions and stipulations
Direct Lending that provides the lowest rates
Hard Money loan sizes from $50k to $2.5M+
Easy and online hard money loan inquiry and pricing submittal
Performance and funding based on committed terms
Self Employed – Stated Income – Low FICO – Ok!
REO's, Short Sales, Trustee Sales, Probate Sales – Ok!
Experienced and professional lending environment
6 months to 5-year loan terms
Trust Us To Give You The Absolute Best Service:
Direct Lender You can get your Hard Money loan approval today, when you call us, or complete the form above. We will give you a quick and free consultation to determine your Hard Money loan needs and then we will provide you with a same day decision. We have great low rates and our staff will make your funding process quick and easy.
Think of Mortgage Vintage, Inc. when:
Your borrower has FICO/Bankruptcy/Short Sale or NOD issues
Your borrower is a Foreign National
Your borrower wants an equity loan against multiple properties with a single Deed of Trust (cross collateral or blanket trust deed)
Your borrower can't qualify for a conventional loan
a. Debt to Income variances
b. Self Employed or Stated Income
The subject property's physical condition precludes conventional financing
Your borrower needs money for a short period of time
Your equity loan needs to fund quickly in the next few days
Your borrower has plenty of equity or a large down payment
Your borrower is buying a REO or Short Sale property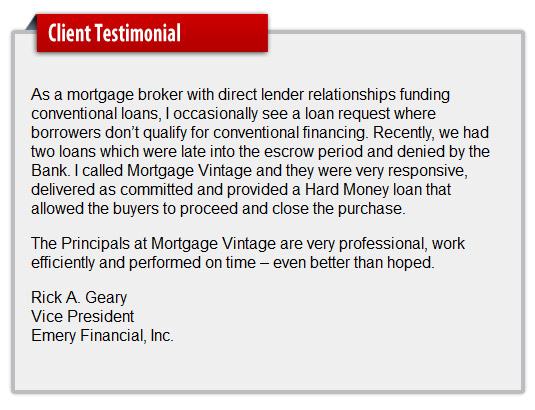 Take Action Now!
Complete The Form To Get A Same Day, Quick Pre-Approval: